Orlandoh Engineering & Construction company Ltd
Orlandoh is a well-established Engineering & Construction company that specializes in general construction and the manufacture of metal steel tanks for aviation fuel, diesel, and petroleum storage that meet and exceed the needs of a wide range of customers' designs and models.
Orlandoh engineering is a rising brand in the concrete and civil construction industry. The Company boasts of skilled professionals and the necessary equipment for the correct testing of construction components like as concrete, soil, aggregate, steel, maceration and asphalt.
Some of Orlandoh Engineering company's notable projects include:
ABOVEGROUND VERTICAL BULK / MINI FUEL TANKS  FOR FUEL DEPOTS 
Above ground storage tanks are custom-designed structures made primarily out of welded steel, such as carbon and stainless. As these tanks remain above ground, they are required to adhere to both state and federal regulations. This qualification makes finding an experienced storage tank manufacturer difficult.
Fortunately, ORLANDOH ENGINEERING offers clients a complete, turnkey solution for ABOVE GROUND STORAGE TANKS. From design to installation and maintenance, you can rest assured that your tank will meet regulations, as well as the specifications of your unique needs.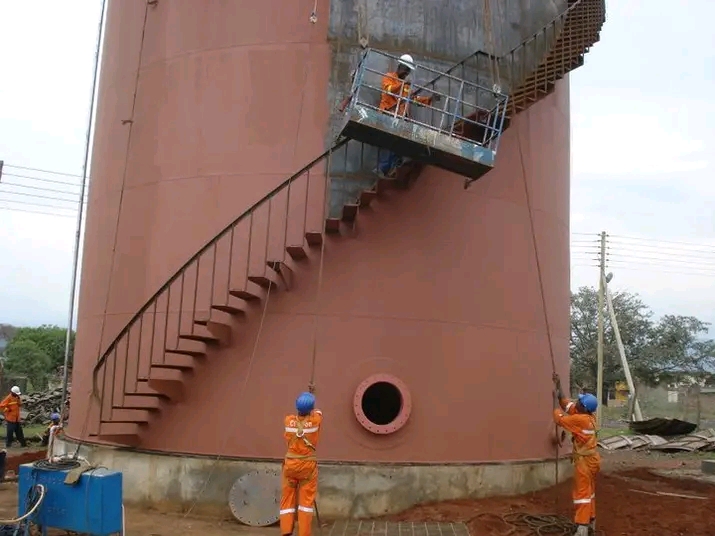 The Importance of Quality in Tank Manufacturing
Above ground storage tanks are utilized in a variety of applications across a wide range of industries such as; food and beverage, agricultural, oil and gas, and chemical processing facilities. Compared to underground storage tanks, aboveground tanks offer numerous benefits, including ease of maintenance, faster spill cleanup, and lower costs. In order to fully achieve these advantages, one must procure from a company who can design and construct a high-quality tank suitable for the site-specific conditions and to meet the storage requirements.
At ORLANDOH ENGINEERING , we prioritize consistent collaboration and communication with our client's team, allowing us to ensure that we create quality tanks that adhere to your individual needs.
HORIZONTAL ABOVEFROUND FUEL TANKS / MINI FUEL STORAGE FACILITIES:
Tanks' description:
N. 2 cylindrical, vertical steel tanks, capacity ranging from 5m3 t0 200m3  each, made of carbon steel and designed to contain Diesel fuel at atmospheric pressure and ambient temperature.
Tanks are provided with a flat bottom, a vertical cylindrical shell and a pitched roof made of sheet sections supported by a steel frame made of steel beams.
Tanks are positioned on a reinforced concrete foundation platform on which are inserted the tank's anchor plates.
A ring beam with thrust function has been fixed on the external edge of the roof where is also fixed the perimeter safety handrail. Another ring beam has been fixed on the center of the roof where all the roof supporting beams converge.
The access to the roof is obtained by a stainless steel ladder provided with an intermediate landing platform. The two roofs are connected by a stainless steel footbridge designed and manufactured in accordance with the safety regulation.
Tanks are fully fitted with fittings and accessories as loading and suction ports, mechanical level gauge, upper and lower manholes, pressure/vacuum vent pipe with flame arrestor device.
Tanks' plates have been sandblasted (SA 2.5 – ISO 8501-1), primed and coated with two layers of epoxy paint.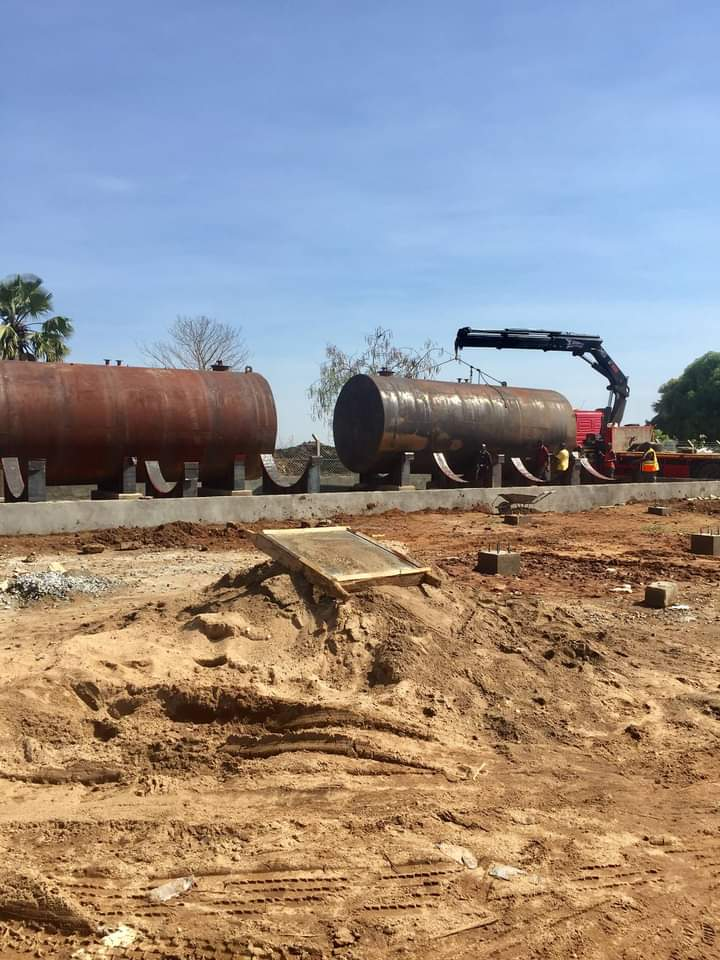 PETROLUEM PRODUCT PIPELINE WORKS / OIL/GAS:
ORLANDOH ENGINEERING  is a full-service provider of Pipeline distribution construction. Starting at the gate station and ending at the customer's meter, Orlandoh has the experience, equipment, tools, and trained workforce to construct any form of gas, oil, petroleum  distribution infrastructure. This includes all construction related to installation of all pipes, welding, fittings, pressure testing, and GPS mapping.
We have certified and experienced technicians and welders that can address any gas distribution need. We leverage the latest technology, such as horizontal directional mapping, to ensure we limit damage during the installation process and provide a long-term complete solution for our customers.
ELEVATED WATER TANK INSTALLATIONS:
For farms and large building estates
Elevated water storage tanks are used to store water for fire protection and potable drinking water within a designated area or community. Elevated tanks allow the natural force of gravity to produce consistent water pressure throughout the system. Based on the intended application and needs of the distribution area, elevated water tanks can be engineered using a broad range of shapes, sizes, and materials.
For more than 10 years,  ORLANOH ENGINEERING has been a dedicated steel tank fabricator and provider of quality above-ground storage and elevated tanks for customers throughout the US. Our elevated storage tanks are engineered, manufactured, and constructed within American Water Works Association and National Fire Protection Association guidelines, and are built to meet location-specific industry requirements and regulations.
Elevated Storage Tank Types
Elevated water storage tanks are typically manufactured by tank builders from carbon steel, which is inexpensive to form and exceptionally durable. Carbon steel is easy to maintain, and steel elevated tanks have been known to last up to 60 years. Below is a list of some of the most common tank designs
DOMESTIC ELEVATED WATER TANK INSTALLATIONS :
INDUSTRIAL ELEVATED WATER TANKS INSTALLATIONS:
UNDERGROUND FUEL STORAGE TANKS :
Underground Tanks
Orlandoh's
durable underground storage tanks are proudly manufactured in Uganda , East Africa to survive the tough underground elements. Our underground tanks are NBOS approved and meet UL® 58 standards. The STI-P3® and ACT-100-U® double wall tanks are designed to protect the environment while providing the end-user a piece of mind that they are purchasing an underground storage tank that exceeds even the highest industry standards.
We offer steel single wall and double wall underground tanks up to 30,000 gallons. Steel tanks are stronger than fiberglass and are less dependent on the quality of backfill to keep the tank sound. Underground steel tanks have a proven compatibility with a wide variety of fuels, chemicals, and additives, including petroleum products blended with methanol and ethanol. Choose from an ACT-100U or STI-P3, offering a standard 10 year warranty with an option for an additional 20 years, or a basic tar-coated underground tank (available where local codes allow). Our underground tanks are built and tested to Underwriters Laboratories specification standards.
CIVIL ENGINEERING WORKS
Orlandoh engineering offers a broad range of concrete construction services to tailor a delivery system that meets the needs, priorities and budgets ofthe customers. Some of the services provided include:
Formwork and foundation

Excavation and earthworks

Steel erection

FUEL STATIONS CONSTRUCTIONS:
Check out the contact details if you're interested in contracting Orlando Engineering Company.
Contact details
Susie House Room (16) Plot .1001. Gaba Road.
O Box 5054 K'LA (U)
Email :  [email protected]   , [email protected]
phone : +256 777 517 330   –  MOBILE / whattsapp No.  Official
: +256 757 542 533      – MOBILE  / whattsup No.