Under Ground Tanks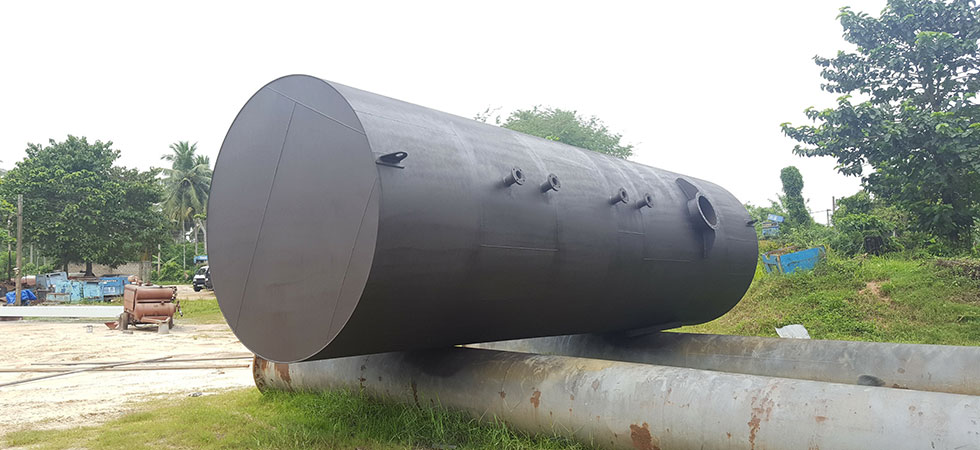 Are you Planning to Build  a Fuel Station?
Are you having to store fuels required for daily use in a fuel gas Station?
Our underground steel tanks provide superior structural strength and product compatibility. Designed to withstand the harsh conditions of the underground environment, they are serviceable for storing a wide range of petroleum products and other hazardous liquids. Tank dimensions and thicknesses are calculated in strict compliance with Roark's Formulas for Stress and Strain as presented in UL-58 (Not listed). In addition, customization to suit your requirements is always available. A variety of industry-proven corrosion protection systems can be selected to be installed on our underground fuel storage tanks using a variety of backfill materials. Capacities from 240- 50,000 gallons, exterior full fillet lap joints, striker plates under every opening, seam inspection, and 5 psi factory air tests, our underground storage tanks are dispatched after rigorous leak testing in Cochin Steel LLC factory.
Our undergroud tanks also come with FRP/ GRP linings externally to suit buried applications.
Shop Fabrications
Steel fuel containment systems have a proven history of providing reliable and safe storage of fuel products. With the addition of a fiberglass reinforced "FRP" outer, secondary containment layer the Elutron® fuel storage system creates a high performance, seamless and durable underground storage solution. The 360º interstice between the steel and FRP secondary containment is created by incorporating an aluminum foil layer which in turn provides a system for monitoring inner tank integrity. The steel inner tank provides the highest level of structural stability while the outer FRP layer provides complete protection from underground environmental conditions. The UL Listed Elutron® Double Walled Fiberglass Jacketed tank system meets the EPA 40 CFR subpart B, 280.20 standards for new underground storage tanks.
Orlandoh Steel's Elutron® underground fuel storage tanks are compatible with water, gasoline, jet fuel, methanol and ethanol in varying concentrations, E 10, E-15, E-80, E-100 and kerosene commonly used in a variety of applications such as fuel stations, emergency power generators, and farm and residential operations and can incorporate multiple compartments. Installation of Elutron® diesel underground storage tanks is uncomplicated and due to the inherent, long term strength of steel are less dependent upon backfill for support when compared to non-metallic underground tank systems. Non-metallic underground tank systems require high-quality gravel backfill and a greater distance between adjacent tanks.
Each Elutron® system is supplied with a factory-established interstitial vacuum. Prior to delivery, our team cleans and levels all the fittings and marks the center lines on each tank. These details save installers several hours of work normally spent on the pre-installation testing and cleaning of non metallic tanks.
Quality is built-in to every tank system Orlandoh Steel fabricates and our production facility is certified and regularly audited by the American Petroleum Institute and Underwriters Laboratories.
Orlandoh Steel is a reliable partner with over 70 years of experience fabricating superior steel products including a wide array of storage tanks such as above ground fuel storage tanks, Fireguard® fire rated fuel storage systems, modular agricultural fuel storage tanks and petroleum storage tanks for oilfield applications.
QUALITY
Every tank is tested per the UL standard 58+UL1746 to ensure it meets the specifications required by the National Fire Protection Association
All of our welders are AWS certified
Orlandoh  Steel maintains a comprehensive Quality Management System that guides every aspect of our operations including sourcing, planning, and manufacturing processes
WHY  ORLANDOH ENGINEERING®?
10 plus years of complex and critical steel tank fabrication
American Petroleum Institute and Steel Tank Institute certified and UL Listed
Orlandoh is dedicated to the highest levels of safety
Unsurpassed customer support and commitment to on-time delivery
AVAILABLE ACCESSORIES
Sump collars
Manholes
Threaded or flanged ports
Deadman anchors
Hold down straps
Turnbuckles
Submersible pumps